Opening of Light shifters by HC Gilje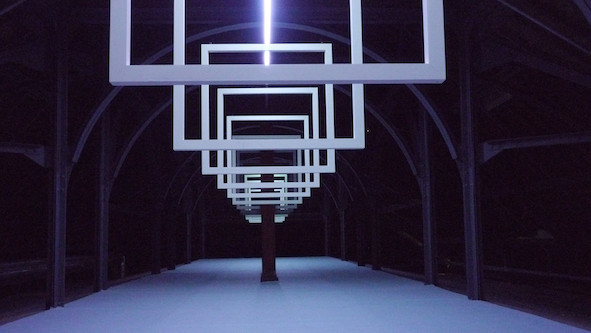 Welcome to the opening of a new exhibition , Thursday 25th of November!
The exhibition is open from 3 pm the same day.
At 7 pm there will be a 30 min presentation by HC Gilje at Hotel Scandic Alexandra in Molde.
Official opening in the gallery 3rd floor at Plassendirectly after the presentation ( 5 min walk).
Refreshments will be served.
This year's last exhibition Light Shifters, with works by HC Gilje, requires the visitors presence, you have to be there while it happens, and at the same time it sums up the entire year's exhibition program, as it had the body as an underlying theme. 2021 began with the eye that sees, with the release of the artist book "Behold/look "(SJÅ)" and continued with various thematic angles related to the human body.
In his book Conversations with spaces, HC Gilje says:
The body is the measuring rod for how we experience time. We cannot observe time in itself, we can only observe events and compare them. Time is defined trough regular repeated motion, like the ticking of a clock, cycles of daylight , changing seasons. Any regular rhythm gives a sense of time passing, and thus light motion and sound can influence our experience of time .
HC Gilje (born 1969) is a Norwegian artist who works with realtime environments, installations, live performance, set design and single channel video.
Gilje has presented his work through different channels throughout the world: in concert-venues, theater and cinema venues, galleries, festivals like Festival of Light Art Geiranger, spring 2021, where his work The Rise and Fall 2 took the form of a dialogue with the structures of the Fjordsenter building, or more recent , a light installation in the former main branch of the public library in Oslo, aka Det Gamle Biblioteket, as part of the large photo exhibition/festival Oslo Negativ- with more than 7000 visitors in October.
Giljes work is also presented through several international DVD releases, including 242.pilots live in Bruxelles on the New York label Carpark and Cityscapes on the Paris-label Lowave.He was a member of the video-impro trio 242.pilots, and was also the visual motor of dance company Kreutzerkompani. In 2006, Gilje initiated the research project "Conversations with Spaces" where he explores how audiovisual technology can be used to transform, create, expand, amplify and interpret physical spaces
http://hcgilje.com/